Session Beat are proud to release their debut album, Long Time Cominí. A unique blend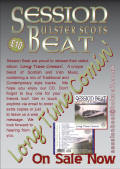 of Scottish and Irish Music, combining a mix of Traditional and Contemporary style tracks. We hope you enjoy our CD. Donít forget to buy one for your friends too!! Get in touch anytime via email to order extra copies or just to leave us a wee message. We look forward to hearing from you. You can also order online via our Web Store.
You can click on the picture on the left to see our CD Launch Poster. Feel free to pass this on to your friends and family.
The Album inlay showing the full Track listing is shown below. You can hear a short preview of each track below. Enjoy and don't forget to buy a CD at our web store.
This text will be replaced by the flash music player.